Healthy & Tasty Recipe Book – Over 70 recipes!! (Archived)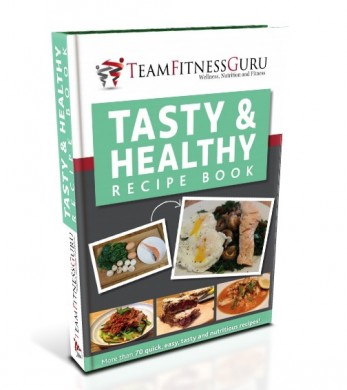 Diets are not the answer to get healthy. We don't exactly relish being told what not to eat. Diets are often full of rules, and as we suffer through our cravings these rules seem almost designed to be broken. Diets don't work long term – they're usually short team and require a high amount of willpower. As willpower is a limited resource, sooner or later we'll be back to our unhealthy eating habits. This is why you need to stay away from diets and start being creative by learning what type of food you should be preparing and eating.
That's the great thing about these recipes in this book that I wrote partnering with dietitians and nutritionists. You end up eating tasty morsels and you still end up healthy. You don't feel like you're on a diet at all. It's more like a fun way of becoming healthy.
Apart from providing quality fitness workouts as a personal trainer, I also advise clients on eating healthy – many times giving them recipes of tasty but healthy meals that they can easily prepare at home. This made me write my own recipe book, especially made for those who want to eat yummy and healthy at the same time! Yes, conducting personal training in Singapore involves sharing healthy food ideas with clients 🙂
Type the words "diet plan" on Google and you'll get 80 million hits. With all these tasty yet sinful treats easily available on the streets, following a diet can be truly challenging and almost impossible to follow.
In fact, it's actually difficult even to just start a diet these days. And that's where my Tasty & Healthy Recipe ebook comes in. It takes note of all the common problems in dieting and then solves them all for your benefit. Because of this, your diet may actually become easier to follow instead.
Here are some of the problems Tasty and Healthy Recipe ebook can solve:
There's too much info online on what to eat, and some of them contradict each other. Throughout my 20 years as a personal trainer, this is what I've heard most from people. What you need is to listen to just one source that you trust. If you have already decided to trust your personal trainer or nutritionist, then it's time for you to actually trust their word and recommendations. And if they recommend these Tasty & Healthy Recipe ebook recipes, then it's time for you to commit and do as you're told.
This is the litmus test. Do you really trust the expert?
You're not really sure of what to eat, and how much. Some diet recommendations online are nothing but generic info and don't actually have the information you are looking for. One diet may tell you to go for good cholesterol, but where do you find that? How much chicken meat should you consume before you reach the optimum amount of protein needed for the day? What does it mean to cut down on sugar?
With the recipes, these kinds of vague instructions can be avoided. Now you know exactly what to eat and how much you need to eat. The directions are easy to follow, and it doesn't take a whole lot of your time.
The dishes are also following common sense rules that most dieters know about these days. For example, most if not all the recipes are free from wheat, gluten, and alcohol. And of course, they're low on sugar.
It's all about maintaining a different mindset. If you think you're following a diet, then keeping to the rules can be a true problem. But if you realize that these recipes are designed to nourish you and also to help you enjoy your meals, then it feels like a reward every time. It's like when you're a tennis fan—if your coach tells you to play tennis every day and that makes you healthy, then everything's good.
Diet dishes taste "blah". Yes, that's one of the common problems of diets. You take away processed foods, sugar, salt, and other great "sinful" stuff, and all you're left with are tasteless lumps of food.
But there's more to proper diets—and to life—than just these bland dishes. There's actually ways to make them fun and tasty. And these ways are all demonstrated here.
You get to "break" the rules every now and then. Nobody really has the determination to follow the rules forever, and once you break them then it becomes a slippery slope where you end up breaking them all the time.
But with the ebook you can actually schedule your treats as part of your healthy yet fun diet. A diet in order to work must be easy enough that you would want to follow it for the rest of your life. It's a habit you need to adopt and include as part of your lifestyle. And you can only do that if you don't hate your diets.
And that's the hallmarks of every diet here. They're not just healthy. They're easy and quick to make so you can prepare your lunch without any problem. And they are tasty and fun as well.
If you are planning to go on a diet, you need Tasty & Healthy Recipe ebook to help you. Download this eBook and watch yourself become healthier in no time 🙂
A sneak peak 😉
Dessert: Summer Fruit Pancakes
Lunch: Steak Strip Salad
Dessert: Chocolate Nut Ice-Cream
Brunch: Poached Salmon Protein Brunch
Dinner: Mediterranean chicken
Bonus Sections
Bonus #1: Strategies on having a healthy and lean body.
Bonus #2: Tips on healthy cooking.
Bonus #3: Secrets to how our clients achieve healthy and fit bodies, starting from scratch (Last section of the book).
If, within 3 days of your purchase, you find that you are not happy with your purchase, we will refund you. There's virtually NO RISK on your part.
Why do we have a 3 day-satisfaction money back guarantee?
1) We're very confident that you'll love our ebook!
2) We're health professionals and we're interested in giving you VALUE.
3) We're different than a lot of others – we want you to know your investment is sound, and if you think otherwise, we gladly return back your funds. Just email to mail@teamfitnessguru.com your reason/s for refund (within 3 days of purchase) and we'll process it within a business week.
4) We are accountable to you, and this drives us to produce the best we can for you.
5) We want to build relationships and we don't let money to get in the way.
Get your Original Ebook Now (PDF format, Immediate Download). You will receive an email with a download link to your brand new Recipe Book. There is no physical book involved.
Usual Price US$20


Now 
US$11.50
Get your Original Ebook Now (PDF format, Immediate Download). You will receive an email with a download link to your brand new Recipe Book. There is no physical book involved.