Qualifications & Experience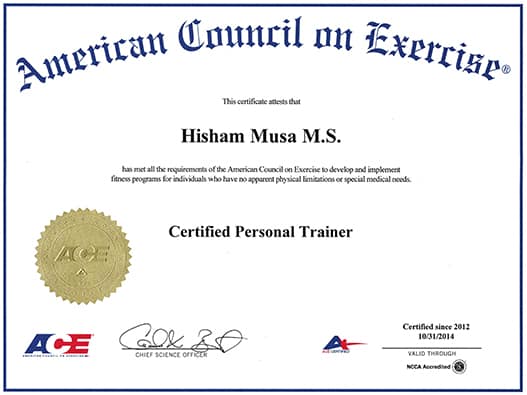 Qualifications and certifications are a few ways to see whether a personal trainer has the right technical knowledge when advising his clients.
As science is dynamic, new discoveries in training methods and sports science are made everyday. It is my philosophy to constantly upgrade myself in this field as much as possible so that my clients can benefit from them.
Knowledge and knowing how to apply them (Exercise prescription) have helped many.
My qualifications and certifications also help me gauge the level that I am at so as to instil in me the confidence to help you achieve your fitness goals.
As such, it is important for you to engage in a personal trainer with not only the proper qualifications and certifications but one that you know is dedicated to improving his or her self to better help you in your quest for a fitter and healthier life.
Here's the list of certifications that I've accumulated these past few years.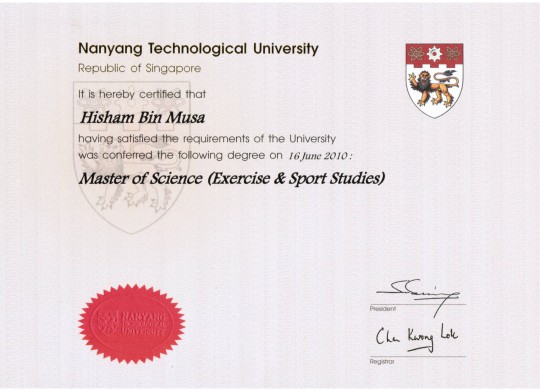 I am more willing to let you take a physical look at these certificates as I do encourage proper and detailed research before engaging in any personal trainer.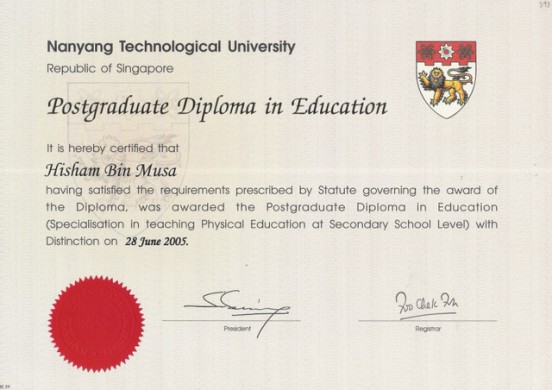 Coach Sharm (Hisham Musa) – Personal Fitness Trainer Since 1993
Graduate / Postgraduate Qualifications
Master of Science (Merit)
Exercise and Sports Studies (Fitness)
Nanyang Technological University
Postgraduate Diploma in Physical Education
 (Distinction)
Physical Education and Sports Science
Nanyang Technological University
Bachelor of Arts and Social Sciences
 (Merit)
Economics
National University of Singapore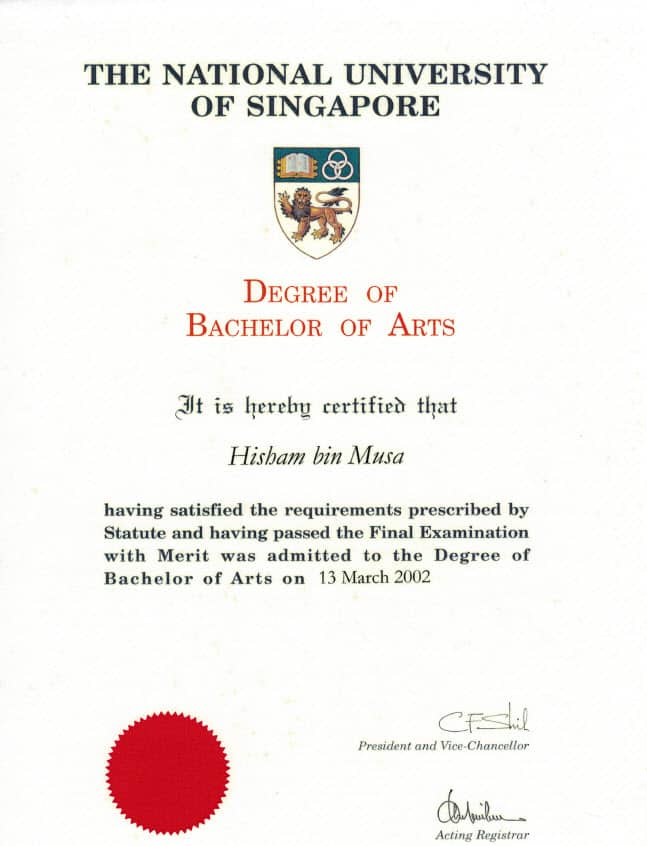 Personal Trainer Certifications from the United States
American College of Sports Medicine (ACSM-EIM)
American Council on Exercise (ACE)
TRX Certified trainer (Master trainer development programme)
TRX Course instructor (STC)
National Academy of Sports Science (NASM)
Start Fitness (Tactical Fitness Trainer)
Master Trainer education from Canada
TWIST Sports Conditioning Master Trainer
TWIST Sports Conditioning Gold Course (Gold) Level 3
Certifications from Australia
Punchfit Kickboxing Instructor
Pilates (Matwork) Instructor (Studio Pilates, Australia)
Nationally Recognised Coaching Certificates / Qualifications
National Coaching Accreditation Practice Level 3 (NCAP Level 3 – NTU Equivalent)
American Red Cross Swimming Instructor Level 3
Singapore Sports Council (FIC)
Certifications/Diplomas from Singapore
Singapore Sports Council
School of Infantry Specialists
Officer Cadet School, Singapore Armed Forces
SAFTI Military Institute
Cardio Pulmonary Resuscitation (CPR) / First Aid certification
Singapore Red Cross Society
Singapore Life Saving Society (Current)
School of Military Medicine (SAF)
Areas of Expertise and Research (Academic and Practice)
All at Postgraduate Level, and each module is between 30 to 60 hours long, not taking research, assignments and projects into consideration. Originals are available for verification.
Exercise Prescription (Distinction)
Fat/Weight Loss (Distinction)
Exercise, Nutrition & Obesity (Distinction)
Physiology of Exercise, Health and Nutrition (Distinction)
Biomechanics (Distinction)
Applied Sports Psychology Interventions (Distinction)
Research Methodology (Distinction)
Motor Control and Learning (Distinction)
Weight Training (Distinction)
Sports Specific Achievements
Track and Field, Athletics (Distinction)
Fitness & Conditioning (Distinction)
Netball (Distinction)
Tennis (Distinction)
Gymnastics (Distinction)
Soccer (Distinction)
Hockey (Distinction)
Volleyball (Distinction)
Dance (Distinction)
Swimming
Badminton
Basketball
Pedagogy/Teaching/Coaching Related
Theory and Practice of Coaching (Distinction)
Effective Teaching of Physical Education (Distinction)
Instructional Strategies & Methods in Physical Education (Distinction)
Physical Fitness Achievements
Shuttle Run: 8.5 secs
Sit and Reach: 62 cm
Standing Broad jump:  282cm
Pull Ups: 27 repetitions in 1 minute
Sit Ups: 71 in 1 minute (Don't do sit ups!)
2.4km: 8:47 mins
SOC (Standard Obstacle Course, during OCS): 6min 5 secs
10km best: 44:30 mins
Current national service rank: Lieutenant
REFERENCES 
Dr. G. Balasekaran, Ph.D., FACSM
Head | Physical Education and Sports Science
Chairman of NTU Healthy Lifestyle
National Institute of Education | Nanyang Technological University
Professor John Wang, Ph.D., CPsychol
Previous:  Head | Physical Education and Sports Science
National Institute of Education | Nanyang Technological University
Professor Michael Chia, Ph.D.
Dean | Office of Faculty Affairs
National Institute of Education | Nanyang Technological University
Dr. Bervyn Lee, Ph.D.
Director | Office of Student Life | Singapore Management University
Previous: Senior Director | Sports Pathways Development | Singapore Sports Council (SSC)
Yours in Health and Knowledge,
Coach Sharm (Hisham Musa)